Back to staff directory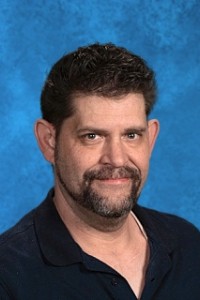 Grade 5
Hey everyone! My name is Jim Wettstein (Mr. W) and I am new to Maryview this year. I have been teaching in the Catholic School District for the last 11 years, and while I am an Art teacher by training, I have taught in Grades 1-5 as a general classroom teacher.
I was raised in Rimbey, Alberta, where I spent my time with my friends listening to music, drawing, playing Dungeons & Dragons, building tree forts on our farm, camping, and generally finding ways to entertain ourselves while staying out of trouble. When I graduated from high school I furthered my education by attending both RDC and Lethbridge University. From there I graduated in 2005 with a Bachelor's Degree in Art and a Bachelor's Degree in Education.
I have been happily married to my wife, who is a nurse, for over 18 years and we have lived in Red Deer since 2006. We also have 3 children; a boy (15), and two girls (13 and 11).
I have many interests, including watching Marvel & DC Superhero movies, Pokemon, anime (Dragon Ball & Fullmetal Alchemist), cartoons, music, playing ukulele, drawing fantasy heroes, reading fantasy novels like Harry Potter, Lord of the Rings and other similar books, and writing my own fantasy novels which I've been working on for 15+ years.
I am excited to be working at Maryview this year in grade 5, and look forward to getting to know my students, their parents/guardians, and staff as we work to find success in this year's faith filled educational endeavors.